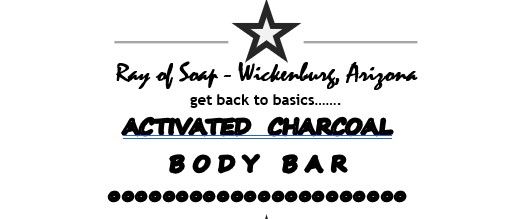 ACTIVATED CHARCOAL BODY BAR

Sand is a Constant in the desert – it's  Nature's sandpaper.  Rocks, trees even the pyramids are scrubbed smooth with the power of sand.  This Activated Charcoal Body Bar combines activated charcoal and a super-fine pumice along with shea butter, cocoa butter and coconut oil.  Your skin is exfoliated, purified, nourished and sealed all in one step.  Perfect in the shower or sink-side for soothing over-worked or dry hands.  This soap is so gentle, it can even be used as a facial exfoliant on many skin types. The healing starts as soon as the cleansing is finished.  Lightly scented with pure almond extract.  Sold in 3-Paks.
 
ingredients:
Activated  Charcoal Body Bar: pure vegetable glycerin fine
pumice powder to gently exfoliate and remove dead, dry skin,
  activated charcoal for grabbing and removing impurities, then
topped off with the supreme moisturizing powers of  coco butter,
shea butter, organic coconut oil and almond extract.